Orion Construction and the city of Cedar Springs recently broke ground on a new fire station.
The team celebrated the construction kickoff with a formal groundbreaking ceremony held on-site at 38 N. 2nd St. NE in downtown Cedar Springs.
The new fire station will provide added space and equipment necessary to service a growing Cedar Springs populous. The fire department serves a 16-square-mile area and approximately 5,600 residents.
The Cedar Springs City Council approved placing a proposal for the new fire station on a November election ballot in 2018. The proposal passed and provided the necessary financing through a millage and tax bond not to exceed $3,115,000, which will pay for site improvements, build/design and construction, as well as additional equipment, vehicles and other related expenses for the fire department.
"The voters have entrusted the city to use their money wisely to build a new fire station that will propel us into the future," City Manager Mike Womack said. "The current fire station has been in place for 40 years at this point, and we're looking to build a facility that will last for the next 40-plus years."
The new 10,000-square-foot fire station will be triple the size of the existing facility, providing more space for meeting, training and equipment storage. It also will be compliant with new federal standards and local code.
"We have equipment stored off-site that we'll be able to bring back on-site, and we'll have a meeting room big enough to hold meetings without having to pull trucks out of the apparatus bays," Cedar Springs Fire Chief Marty Fraser said. "The new station will give us room to expand with new and updated equipment to serve the community as the need grows in the future."
The layout features a nearly 7,000-square-foot pre-engineered metal building for the apparatus area with four vehicle bays for fire engines, storage areas for cleaning and storing gear, as well as a hose tower. Adjacent to the apparatus bays is a 3,300-square-foot office area with a 60-person meeting room, full kitchen, laundry room, office and storage areas, two full bathrooms and two half-bathrooms.
Orion Construction is serving as the general contractor. Hubbell, Roth & Clark Inc. is providing all architectural and engineering services, construction engineering and construction oversight, as well as planning of the building and site.
"We're proud to be a partner with the Cedar Springs community and work with them to create a new home for the Cedar Springs Fire Department," said Roger Rehkopf, president of Orion Construction. "The new facility will provide necessary updates and adequate room and resources for the firefighters to best serve their community and keep them safe."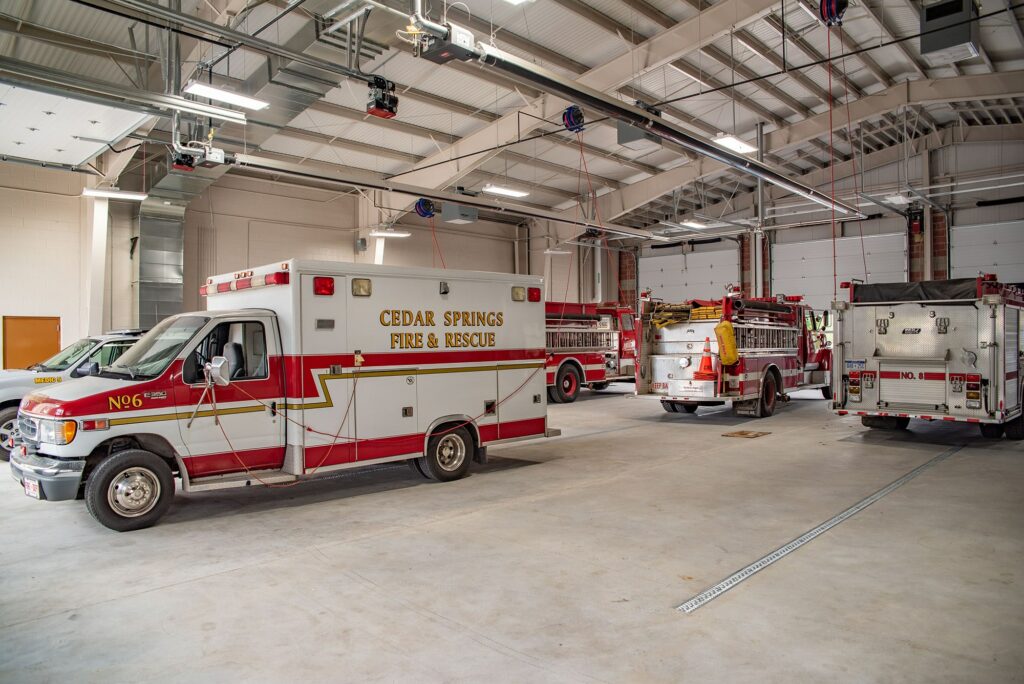 Featured Project
Cedar Springs Fire Station