In partnership with Orion Construction, Tommy's Boats breaks ground on a new Grand Rapids location.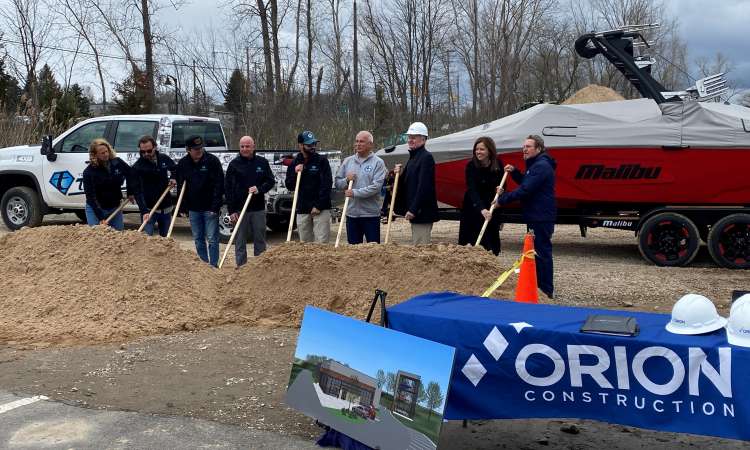 Tommy's Boats, the largest Malibu and Axis dealer globally, today broke ground on its newest location in Comstock Park. The new 16,000 square-foot facility, located just down the street from their current location, will continue to offer the West Michigan boating community exceptional lake life experiences.
Leaders from Tommy's Boats, Plainfield Township, Orion Construction and the local community gathered for the ceremony Tuesday afternoon at the new site, located at 247 Morrissey Dr. NE. The 3-acre parcel sits directly south of LMCU Ball Park, just off West River Drive.
"We're excited to start the construction of our new facility," said Mason Koffman, CEO, Tommy's Boats. "While we have locations all across the country, Tommy's Boats has a long history of serving the boating community, and we can't wait to continue our tradition of providing the best products and services to families in the Midwest."
Last year Tommy's Boats celebrated their 40th Anniversary after being founded in 1981 in Denver, Colorado. In addition to sales and service of a wide array of boats, Tommy's offers a full retail shop offering parts and an extensive line of water sports gear and accessories.
Grand Rapids-based Orion Construction is building the new facility, which will house a showroom floor, sales offices and a 12-bay full-service department. An architectural highlight includes a new custom boat storage tower surrounded by windows. Architects for the project are Henrickson Architecture of Belmont, Michigan. Site engineering was designed and led by Paradigm Design's Grand Rapids office.
"Orion Construction is proud to partner with Tommy's Boats to bring this new, state-of-the-art facility to West Michigan," said Roger Rehkopf, CEO, Orion Construction. "Tommy's is a leader in this space, and we're honored to call them as a long-term client."
During the groundbreaking event Plainfield Township Supervisor Tom Coleman recognized Tommy's Boats commitment to the business community.
"Tommy's Boats has been an integral part of our business community, shining a light on Comstock Park," said Coleman. "We recognize the construction is a major investment and demonstrates a significant commitment to Comstock Park and we're happy they will continue to call it home."
The new facility is scheduled to be completed in Fall of 2022.