Vibrant. Enticing. Inspiring. These are all words that have been used to describe the Monroe North neighborhood and what makes it attractive.

Located northwest of Michigan Hill, spanning north to Leonard and from the River east to Division, is the Monroe North business district. As with most other districts within the city, you would be hard-pressed not to find construction underway. Part of the City's Master Plan, the development under the Monroe North Business District Plan is focused on several key objectives: capitalization on the River, a continued focus on encouraging mixed-use developments, and promoting urban densities.

"The most unique elements of Monroe North are its proximity to the Downtown core and its location along the Grand River. Those two elements made it an attractive place for development and investment and have it on the cusp of some significant transformation in the next five to 10 years," says Tim Kelly, President and CEO of Downtown Grand Rapids Inc. (DGRI).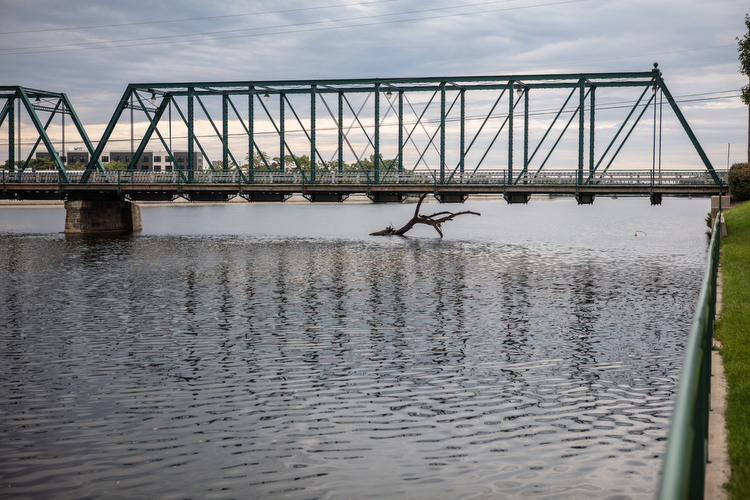 The 6th Street Bridge over the Grand River.

"Along with that, there has been public investment in streets, parks, and trails that make it a walkable neighborhood and have helped support business growth in the area," he adds.

Diedre Deering has served as President of the Monroe North Business Associationfor four years. "Our mission is to pull all of the businesses in the neighborhood together and keep the lines of communication open," she says.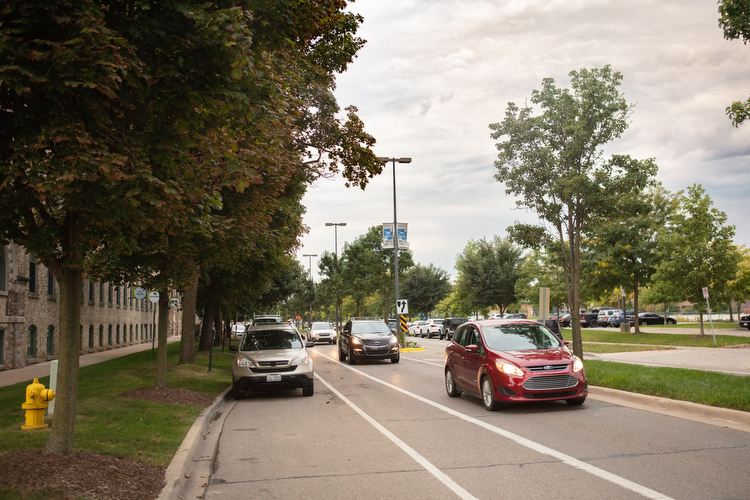 "We're on the brink of some really great things that are going to happen in the neighborhood. It's not just the businesses that are going in. It's the river restoration. There's going to be more resources for people who live in the neighborhood," Deering says.

One such business is the new Embassy Suites hotel, owned by ###a href="Suburban" class="redactor-linkify-object">https://suburbaninns.com/">Sub... Inns. Based in Hudsonville, Suburban Inns is a family-owned operation coming up on 40 years in business. Currently under development is their seventh property, the Embassy Suites hotel, which will be located at 710 Monroe Avenue NW. Breaking ground in March 2017 with a plan to open in March 2019, the Embassy Suites will boast 250 rooms and seven stories, coming in at $62 million in investment. It will be Suburban Inns' largest development to date.



"As a hotelier, we're somewhat unique," says Tom Welling, vice president of development and facilities at Suburban. "We heavily influence the design — adding in lots of features we think will be attractive to our guests. We act as the general contractor [and] we operate the hotel ourselves and own it. We're in it for the long haul."

Having owned the land currently under construction since approximately 2008, there were some hurdles prior to breaking ground. "We faced a number of challenges getting it off the ground. Some of those were related to soil condition, easements required — that type of normal, development-type hurdles. Also, because of the size of the company, and we were building other hotels, other places, this project would get shuffled to the back burner," says Welling.

Despite these challenges, there was no need to look elsewhere when deciding to move forward with this development. "We're especially attracted to Monroe North because the city is growing to the north and to the west. What we saw here to the north is this property, with its visibility to the River and great dynamics of Monroe North in terms of business. It's a great location and has all the appeal for the neighborhood and proximity to downtown, without actually being downtown," Welling says.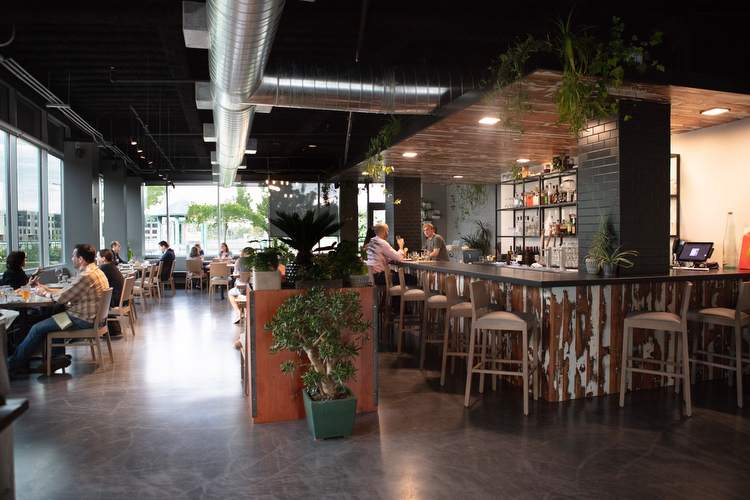 Linear Restaurant

The Monroe North district was equally appealing to co-owners of Linear Restaurant, Todd Hoort and Chris Weimer. Opened earlier this year, Linear is a modern-American restaurant located in the newly constructed 1001 Monroe Avenue NW, known as Homes at River's Edge, developed by Orion Construction.

"One of the main things that we were excited about was the building and that is was on the river," says Hoort. "The opportunity to be on the river and in the Monroe area was really enticing to us."


"We're Grand Rapids. We should really be focusing on the River as being a highlight of the city. I think that's been lost in the past and it's starting to come back around," he adds.

Having looked at a few other possible locations in the City, the appeal of Monroe North could not be beat. "It's a really pretty area of the city. There's lot of nice parks and the bike/walking path that goes along the River. All of that really plays into what inspires us as a restaurant," Hoort says.
###br
Offering staple dishes like a vegan risotto, Linear is already pushing the boundaries of what's traditional. Instead of your standard, rice, cheese, and cream dish, their risotto is made with an ancient grain and obscure beans. "It still has the same look of risotto but there's no cream, there's no cheese. The composition and the mouth feel of it still is very risotto. It's different. You don't see that very often," Hoort shares.

Community impact

Looking at the recent and ongoing construction, one may wonder about the value being added within the community. These developments are yielding both monetary and non-monetary impacts.

"The impacts to the City as a whole will certainly be realized in the form of new jobs and increased income tax [revenue]," Kelly says.

This can already been seen both at the Embassy Suites construction site and Linear Restaurant. "Depending on where we are on the project, we have 125 to 175 construction workers on site every day," says Welling. "[Upon completion], this project will employ about 200 employees that will function in all capacities of the hotel."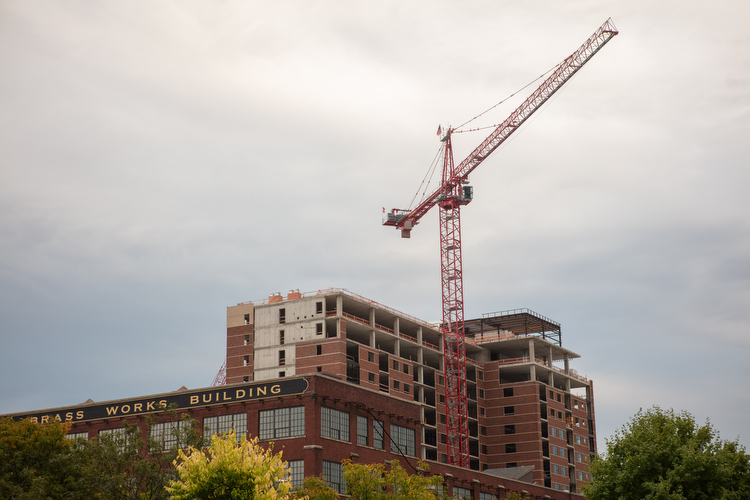 Linear currently employees about 25 full-time employees. "Our goal is to work within the community, harmoniously offering a cool space to gather. We are adamant about accepting all people. We want [people] to come here and feel welcome ... If we can provide just a little bit of that for everybody, that would be my long-term goal," says Hoort.

Looking ahead

The developments within the corridor are part of a larger plan that will impact to the City as a whole.

"The rapids are going to be right in our neighborhood. And with the addition of the North Monroe park hopefully, we'll start to see construction going on within the next four or five years. I think this will bring outside residents into the neighborhood as well. Our businesses are going to benefit from the additional traffic," says Deering.

"The new residential density, hotel rooms, and increased vibrancy are all elements supported by the Master Plan and will continue to make Downtown and the Monroe North neighborhood a destination for all to live, work and play," says Kelly.

"[This will be] adding another destination for City residents to enjoy the River and other outdoor recreation amenities. For decades, our community has not capitalized on the potential of the River, but its restoration and new development will be transformative and create spaces and amenities for all in the community to enjoy," Kelly concludes.

Leandra Nisbet is the Program Editor for the "Making It In Grand Rapids" series. She is Owner of###a href="http://www.stingrayadvisorygroup.com/"> Stingray Advisory Group LLC and Co-Owner of Gold Leaf Designs LLC and Brightwork Marine LLC. Leandra has over 12 years of experience in leadership, sales & marketing and graphic design. Through her work, she assists businesses with creating strategies for growth and sustainability through: strategic planning, marketing concept development/implementation, risk management solutions and financial organization. She is actively involved in the community, sitting on several Boards and committees.